Stop by our local boutique to purchase medical grade skin care, supplements, beauty tools, and natural skin care products. You can support the spa by using our affiliate link below and get free shipping on qualified purchases. Thank you for supporting our small business, and we look forward to helping you find the perfect daily regimen to support your anti-aging, wellness, and skin goals.
Click Link below to Shop Online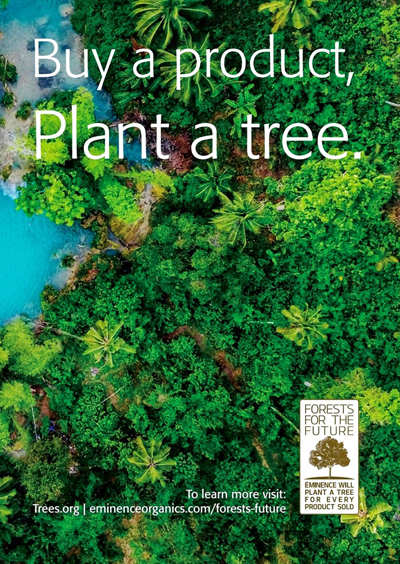 Did you know every time you purchase an Eminence Organics product, a tree is planted in a developing country? Over 22 million trees have been planted worldwide through Forest for the Future which allows trees to be planted in developing countries for every Eminence product that is purchased! Eminence products are handmade in Hungry, without any heating or hydrogenating processes that can affect the nutritional content and potency of natural ingredients. Vitamins are captured in their optimal state, as well as seeds, pulps and peels are used which offer additional regenerative properties that only nature can produce. Many of these ingredients are combined with pure waters, drawn from a thermal hot spring lake that contains essential minerals and trace minerals.
The impact of over 20 million trees planted is equivalent to around 1,831,739 tons of CO2 over the next 20 years!!  A single tree can produce 260 pounds of oxygen per year!!! This helps to restore the environment, reduce the impact of climate change, and create a greener planet for future generations. The effect of trees planted in over 22 countries helps developing countries to grow their own food, and build sustainable income for their families, as well as improve soil health, crops, water use efficiency, and reduce our carbon footprints. Wind energy and solar power energy are used in the making of all Eminence products, and as a Certified B Corporation®, Eminence Organic is committed to business practices that benefit the planet and make a lasting impact on the world through Forest For The Future initiative, and partnership with global tree planting organization Trees for the Future.